The guide wire is made of SS which should be PVC coated and 1,5 mm in diameter for interior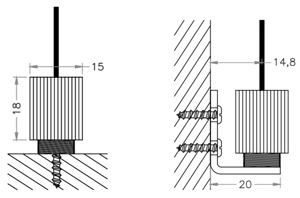 blinds. For monumental shades like Serena® 170 the guide wire is 8 mm in thickness and without coating. For exterior blinds the SS guide wire has to be minimum 3 mm in diameter.
Guide wire can be used for the manual Salire™ roller system as well as for motorized Serena® roller systems. Due to the guide wire installation the light gap will slightly increase to ensure free movement of the fabric along the wire. Furthermore with a guide wire solution the hem bar will be exposed to accommodate the special end caps needed for this solution.