Numerous options are available for outdoor shading in the GCC region. There are various factors to consider when it comes to choosing the right outdoor shading for your home or business. Space, use, and modularity are important considerations when selecting the right shade for you.
Your patio and landscape should be enjoyed to the fullest while making the most of your outdoor space. Sun sails (umbrellas) and Sail Shade are the most popular outdoor solutions for the shade structure. But how do you know which one is the best fit for you? We at Euro Systems® can assist you in determining which shading solution best meets your needs.
Sail Shade VS Sun Sail
Sail Shade
Sail shades are large coverings that entirely cover an area. They are very versatile and can be connected to multiple points like walls, trees, or patio columns to keep them suspended in midair, shading the entire area. These shades are fully customizable in terms of size, shape, color, and material, as they provide maximum sun protection from the harmful UV rays.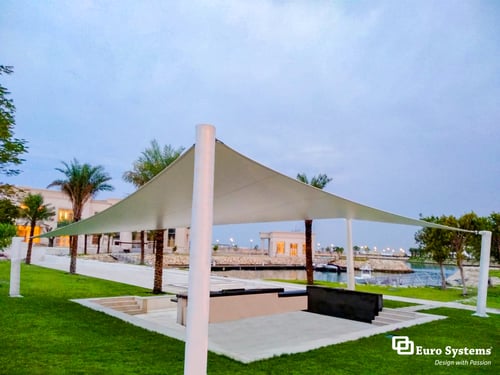 Sail Shade for outdoors and public areas.
They can cover a large or irregularly shaped area and have no obstructive posts in the middle, with the exception of posts on the outside to support the shade. Sail shades do not need to be removed during inclement weather, making them low-maintenance and easy to use.
Sun Sail (Umbrellas)
Sun sails are ideal for small spaces because they provide a clean aesthetic for the exteriors while taking up little space. They have a welcoming and stylish appearance and provide a private space in the shade. They can be either manual or motorized and can rotate and reposition themselves to block the sun as needed. When strong winds are detected, some sun sails have sensors that close the umbrella.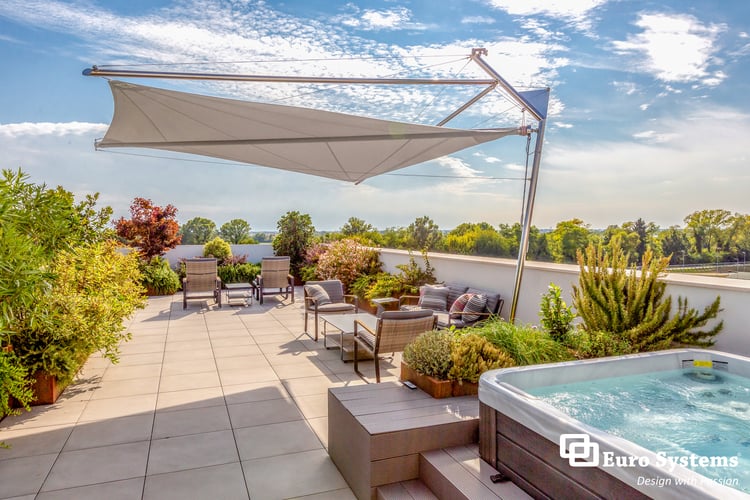 Sun Sail for residential rooftop.
They are much easier to install than sail shades, which take longer to assemble. They are portable, making them easy to transport to any new location. They are also perfect for commercial use like cafes, restaurants, and other businesses.
Considering all of the benefits of sail shades and sun sails into account, the best solution for you will ultimately depend on the type of shade you require. Whether you want a fixed or moveable solution we can help provide options with any customization needed for your home or business.