Gazebo and Pergola are outdoor shades that can protect you from solar rays and rain when installed in your backyard. Suppose you are wondering which exterior shade is right for your home. In that case, you will have to decide between different types of outdoor shading structures.

The Systems:
A popular addition to any garden or patio, a gazebo is a freestanding outdoor structure with a roof, designed with a hexagonal or octagonal shape. It acts as a classic ornamental structure in your backyard garden while providing shades and a place to rest. It can be topped with canvas and designed using fixed side panels with openings.
An example of a traditional Wooden Gazebo
A pergola is a much more modern exterior shade than a gazebo. It has long been a choice for landscape designers in the UAE, Qatar and Kuwait to add a decorative yet contemporary touch to the outdoor area. Pergolas provide palatial focal points to outdoor living spaces and offer similar functions to gazebos.
Pergolas are decorative outdoor structures that add aesthetic value to your garden or poolside area. They consist of posts and an open structure and can be freestanding or wall-mounted.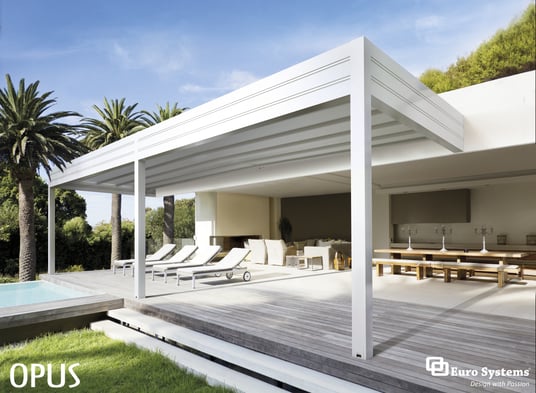 Opus is a Retractable shading Pergola from Euro Systems®
Pergolas and Gazebo have benefits, but there is undoubtedly one right for you, depending on your lifestyle and budget. Suppose you are looking to install a pergola to enhance the design of your outdoor area. In that case, we will state in this post a few factors to consider when deciding whether to go with pergolas or gazebos.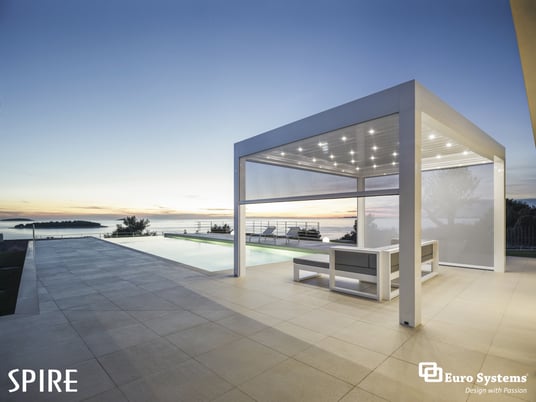 Spire is a Modern Bio-Climatic Pergola from Euro Systems®
Architectural Style
Premium materials, such as modern waterproof fabrics and aluminium frames and posts used to build pergolas, make them much less cluttered and elegant than gazebos. Both Gazebo and Pergola can bring shade to your backyard or garden area. If your house has modern architecture, Pergola wins over Gazebo when you have a contemporary backyard. Placed on the patio, by the poolside or along with the garden, a pergola can be your backyard oasis.
Aesthetics & Design
If you are looking for design aesthetics over functionality in your outdoor living space, consider a beautiful bioclimatic pergola or a retractable fabric pergola enhanced by additional elements like glass doors and lights. You can also choose to add other decorative and shading upgrades, such as roller shades to increase privacy or additional items, like hanging plants and weather-resistant round lanterns. You can embellish your Pergola to make it even more attractive.
Installation & Durability
A gazebo can be hard to build due to the unusual shapes and material used for its construction. It is not always designed to last since it uses wood as a construction material and wood tends to fade during summer.
Pergolas are made with long-lasting materials like aluminium. Hence, they are very sturdy and are a permanent, durable addition to your outdoors. They are also easy to assemble and install and can be disassembled and moved to another location with ease and convenience while a gazebo cannot since it is a permanent structure.
Usage
The main difference between a gazebo and a pergola is the function of the roof. A gazebo fully protects your outdoor living space, while a pergola allows for sunlight to shine through its louvred roof. While both are a constant addition to your house, choosing between a pergola or Gazebo depends essentially on your use. Suppose you plan to call family and friends home and entertain them outdoors while having a relaxed afternoon or evening to enjoy the weather while having a barbecue. In that case, both pergolas and gazebos offer shade, functionality, and style to your garden or backyard.
When deciding between Gazebo or Pergola, make sure to create the backyard that meets both your practical and aesthetic needs.Suppose you have to decide between a Bio-Climatic/Retractable pergola and a Gazebo and are confused between the benefits and drawbacks of either system. In that case, An appealing pergola will immediately add value to your house and make it more attractive.
To know more about the advantages of using a pergola in your garden or backyard, please call us or contact our pergola experts by filling the contact form.