A retractable awning is a versatile adjustable extension that provides users with comfort, shading, and even more convenience than a simple canopy.
If you plan a dinner on your patio, open your retractable pergola and do not let that slight drizzle ruin your evening during a winter day. Suppose you want to enjoy a beautiful summer day. In that case, a retractable awning is a practical solution to avoid harmful sun rays. A retractable awning will allow you to enjoy your patio safely without having to build a permanent structure.
Perhaps you might be under the assumption that a motorized retractable awning is slightly more expensive than a manual one. However, you can be assured that a more applicable awning is worth investment. If you are still hesitating, just read below why you should go with a retractable awning.
1) Additional protection & shade
When you decide to furnish your outdoor space, consider a patio awning or a freestanding pergola with the outdoor furniture that goes with it. Sometimes people worry about the window draperies, shades and indoor furniture and how to protect those assets. When it comes to additional protection: motorized retractable awnings are a great option as they offer better coverage than traditional umbrellas or fabric canopies. They provide your family and guests with a shield and protection from damaging UV rays.
Conventional outdoor shades like canopies offer a very limited shade due to their small structures. On the other hand, a high-quality retractable awning can be customized for larger sizes. Therefore it will provide broader coverage and effective shading. Creating shade with a high-end retractable awning is a great way to ensure relaxation in your backyard or on your patio.
2) Strength and Durability
Some outdoor shades are more likely to be damaged during inclement weather. Retractable awnings are constructed with sturdy and durable materials that make them withstand bad weather. They can be customized to meet your unique requirements and the style of your home. The retractable awning can last for years as long as you take care of it.
Traditional shades such as fabric canopies are highly exposed to damage caused by wind, rain and sun. For example, when there is a windstorm, the retractable awning can be retracted to keep it protected. The non-retractable shades like umbrellas or fixed canopies are exposed to the wind and can easily be torn. A retractable awning is an ideal solution to expand your living space and add value to your home without opting for costly and inconvenient renovations.
3) Reduce your energy costs
During the sunny afternoons here in UAE, Qatar and Kuwait, consider the heat and light that enter your home through west-facing windows. Not only this will make you feel uncomfortable, but it can also increase air conditioning expenses. Retractable awnings are energy efficient as they help you save energy by reducing electricity bills. With top quality awnings, you will enjoy much lower energy expenses. Since awnings offer more shelter than other shade systems, you can enjoy the shade and the fresh air outdoors while saving energy.
4) Added value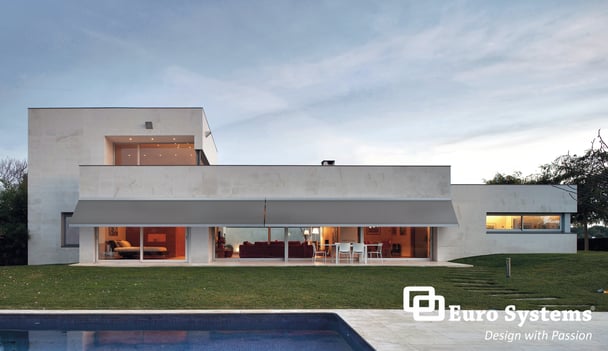 Finding options to improve a home appeal is an essential goal for many. Installing an awning to create shade in the exterior environment can contribute a lot to enhancing the outdoor atmosphere and the appearance of the outdoor area. Investing in a retractable awning offers the convenience and versatility needed to optimize outdoor space use.
When deciding whether to install a new awning or not, most homeowners will check if this outdoor shade will increase their home value. The answer is yes. An awning will provide you and your family with much needed extra space to enjoy your outdoor area. It offers a quiet, shaded place outside to relax. Installing it in your patio or backyard will probably increase your property's value since it will create additional space that did not previously exist.
5) Low Maintenance
Awnings provide minimal maintenance as you can clean the fabric and frame with water and soap once per year. They can be retracted and left throughout the winter. There is no additional risk of wear and tear. However, bird droppings should be wiped away from the shade fabric instantly.
Retractable awnings are constructed with vinyl fabrics that are water repellent and withstand mildew. The sturdy vinyl fabrics are used along with reinforced supports operated within a robust aluminium frame. Thus, your retractable awning will remain reliable and beautiful for an extended period of time.
6) Resistance to wind and rain
Fully engineered retractable awnings are much stronger than non-permanent structures. For permanent installations, and when expecting heavy rain or wind, the materials should be more robust. The retractable awning is often constructed of aluminium frame and water-repellent fabrics. As the fabric is waterproof in retractable awnings, the rain will not be much of a problem.
Nevertheless, awnings are sunshades and should not be regarded as likely to protect from heavy wind and rain. In this case, the motorized option combined with rain and wind sensor is highly recommended to retract the awning when required automatically.
7) Convenience and Usability
When a retractable awning is exposed to wind, you should ensure the awning is fitted with a wind sensor that will retract the awning completely in stormy weather. This is only possible with a motorized system. For a large retractable awning, the only way to retract is when it is electrically operated, to ensure ease of operation and control.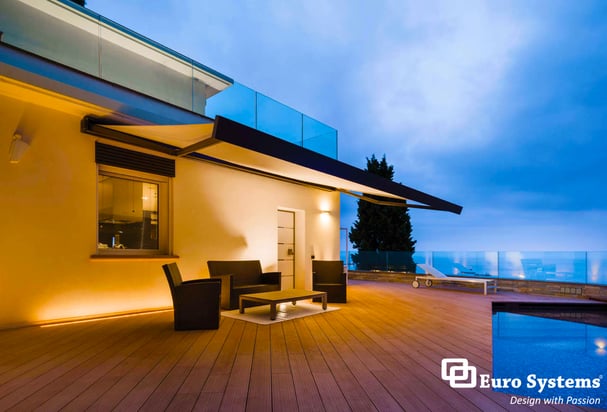 You can customize your retractable awning with a motorized system to create the desired style and comfort you are looking for, while also having minimal effort to operate it. One of the motorized versions' benefits is the ability to lower the shade easily at your convenience, even from inside the house. By opting for a motorized awning, you can add instant outdoor shades with just the touch of a button while ensuring maximum protection from rain and sun glare alike.
If you wish to learn more about the benefits that retractable awnings can provide in UAE, Qatar and Kuwait, please call us at the number above or email awning experts from Euro Systems by filling the contact form.