Do you want to increase the size of your living space? Outdoor shading is an excellent way to increase your living space and transform your backyard. It is a multi-purpose solution and an excellent addition for great investment returns for your home. A pergola is a contemporary shade that has long been used by landscape designers to add a decorative yet functional touch to an outdoor space. They are a popular choice for outdoor shading in UAE, Qatar, and Kuwait, and are ideal for expanding living space.
Opus retractable fabric pergola creates extra living space.

Here are 5 reasons why you should consider a pergola to extend your living space:
They add value: Extending an outdoor living space improves the home appeal and is an important addition for homeowners looking to increase the value of their homes. The addition of a pergola improves the outdoor atmosphere and appearance. It is essential to assure that a pergola is made of high-quality materials. A pergola adds extra living space and area to enjoy outdoors while increasing the value of the property.
They are modular and can be used year-round: One of the best things about a pergola is that it can be modified in various ways to suit the need of your home. Some modularity options include freestanding, wall mounted and other options. The system can be integrated with lateral and frontal Roller blinds. The versatile pergola can also be equipped with led lighting for nighttime use, depending on the customer's individual preferences.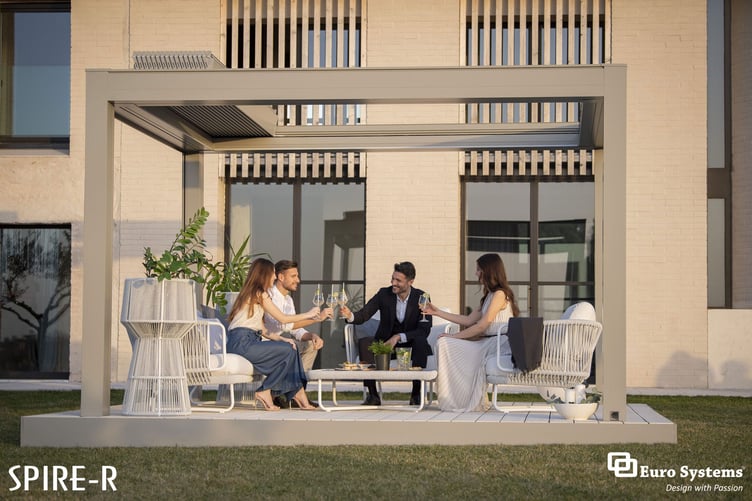 Spire retractable pergola entertainment area for hosting friends and family.
They create a space to entertain outside: What better way to entertain and host parties than in a spacious outdoor living area? Pergolas create a welcoming, appealing, and adaptable space. The ideal addition to your home to spend time with family and friends while relaxing, dining, and working out outside.
Durable and low maintenance: Pergolas made of high-quality materials last a long time and are simple to maintain. Unlike wooden pergolas, aluminum pergolas are dependable and weather-resistant, making them long-lasting.
They Protect and Shade: Pergolas allow you to enjoy the outdoors while protecting you from hot and humid climate. They shade you against these weather conditions making your time outdoors more bearable.
Innovative and modular pergola to provide protection from harsh weather.
Euro Systems® state-of-the-art pergolas address all of the above key points while also providing innovative and customized shading solutions. There are many pergola options to choose from, including fabric, retractable, and tilt-blade pergolas. The benefit of a pergola is that you can let the air and sun pass through when the weather is pleasant, allowing you to enjoy the outdoor weather. Its extruded aluminum profiles provide optimal shade and thermal comfort, transforming any outdoor space into a functional yet sophisticated area.