Euro Systems® has recently completed several prestigious projects spanning high-end residential and commercial buildings across the Middle East by installing various interior, exterior and architectural glazing systems.
In 2020 and continuing into 2021, we have managed to maintain project performance in the market through completing various installations of interior shade systems, pergolas, architectural glazing systems and acoustic ceilings for our clients in UAE, Qatar and Kuwait.
UAE
Sharjah Digital Library, Sharjah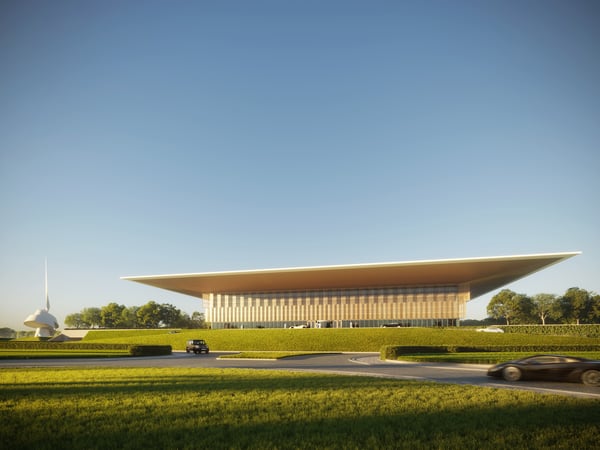 Sharjah's Digital Library facility is designed to bring digital library services with cultural interaction in mind. Named as the House of Wisdom, the library will house more than 105,000 books as well as digital resources, honoring the past and welcoming the future. Reinforced by technology and innovation, the House of Wisdom is considered as a social hub for learning.
Above is the Solange® 100 Speciality Shading System at Sharjah Digital Library
To preserve a visual connection with the outdoor landscape, Euro Systems®️ has supplied and installed the Solange®️ 100 motorized shades, deployed to diffuse maximum light. The Solange®️ 100 specialty shades have been installed in the huge reception hub to bring maximum light to the interior spaces. These wire-guided blinds cover approximately 850 sqm, using an extremely durable screen fabric which is woven with coated fiberglass yarns.
Click here to view the project gallery images for this project.
Four Points by Sheraton (Pascal Tepper), Dubai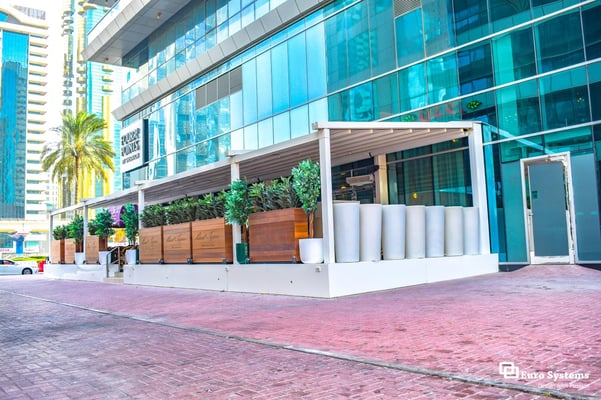 Four Point by Sheraton has long had a policy of providing external shades at all its outdoor public venues. By installing outdoor shades, the hotel aims to protect its guests and visitors from the sun's harmful sun rays and inclement weather. The hotel undertook the complete shading of the Pascal Tepper French Bakery restaurant area, the culmination of which was the installation of four pergolas systems to shade the visitors.
Due to its unrelenting emphasis on product quality, more customers are looking for exterior shades from Euro Systems®️, especially pergolas. We are proud to have provided one of our stunning outdoor shading systems for Four Point by Sheraton located in Sheikh Zayed Road, Dubai.
Click here to view the project gallery images for this project.
QATAR
Katara Marine Restaurant at Katara Cultural Villa, Doha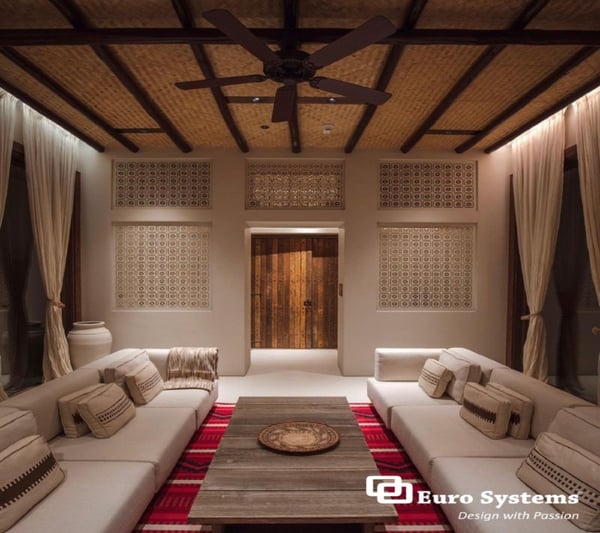 Marsa Katara restaurant is a beautifully located restaurant with Maldivian vibes, newly added to Katara Cultural Village. The luxury 5-star restaurant design is a marvel, with a rooftop that can give you the best panoramic views. Pursuing the goal to create the hospitality icon of 21-st century set by Katara Cultural Village's, Euro Systems® used its best materials to deliver the interior shading design that will be recognized across the world.

In Katara restaurant, our scope of work consists of supply and installation of contemporary draperies in textured plain linen. Rustic ceiling, dark wooden table with contrasting white sofas complement the curtains to set as key features of the restaurant concept, which have been designed to create a contemporary backdrop that exudes a calm and welcoming atmosphere.

Click here to view the project gallery images for this project.
Kuwait
Tamdeen Square, Kuwait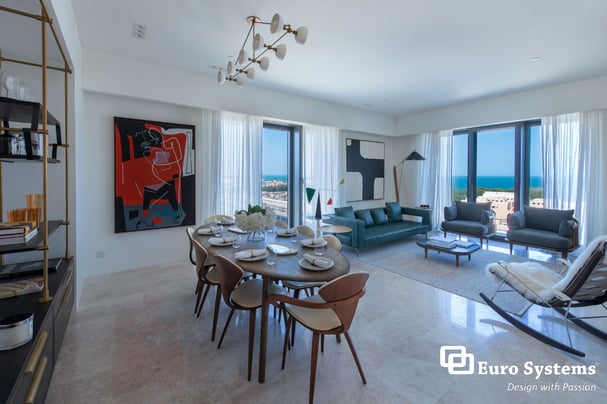 Tamdeen Square consists of high-rise residential buildings that comprise three towers with high-end residential apartments with 40 floors each, covering an area of 10,000 m2. The smart design and superior quality standards combined with innovation are the main features of Tamdeen Square, which is the premiere address for residential communities in Sabah Al Salem, Kuwait. This dynamic community will further enrich the modern neighborhood thanks to its contemporary style that reflects a luxury lifestyle.
Euro Systems® was involved in the interior scope of works by supplying and installing sheer curtains in one of the three residential buildings that has a magnificent sea view. The ultra-modern residential apartment is enhanced with premium sheer curtains that are designed to match the interior design scheme and each room's theme.
Click here to view the project gallery images for this project.