Euro Systems® has completed several prestigious projects spanning high-end residential and commercial buildings across the Middle East by installing various interior and exterior systems.
In 2020 and continuing into 2021, we have managed to maintain project performance in the market through completing various installations of interior shade systems, pergolas, architectural glazing systems and acoustic ceilings for our clients in UAE, Qatar and Kuwait.
UAE
The Coca-Cola Arena, Dubai
The Coca-Cola Arena is the first and largest multipurpose indoor arena in the region that can host up to 17,000 people with a capability of hosting a comprehensive range of sport events, trade shows, exhibitions, comedy shows, parties and gala dinners. For this project, Euro Systems® + BASWA Acoustic supplied and installed a series of acoustical treatments that are very useful in this type of setting. The acoustic systems are taking a very important position in this kind of interior finishes, not only in commercial environments but also in performance venues.
The ceiling surface is covered with our BASWA Phon acoustic plaster, meaning the biggest and best shows in the world can be easily accommodated. At Coca-Cola Arena, BASWA Phon allows for speech intelligibility and the localization of sound, despite the surrounding noise levels. Thus, the architect elected BASWA Phon plaster for its excellent performance in multi-purpose spaces, enhancing acoustical environments. With this project, BASWA proved the importance of the correlation between acoustics and ease of learning.
Click here to view more images from this project.
QATAR
New College of Engineering, Doha
As part of Qatar University, the New College of Engineering will accommodate different departments such as: computer science engineering, architecture, electrical and mechanical. Hence the college should cater to the diverse requirements of these disciplines. For this reason, the architectural design focuses on a variety of fit-out elements beyond site functionality.

With a total built-up area of 99,334m2, this project's main challenge is successfully applying sustainability criteria to all the building materials and systems as well as fit-out components used to high quality results that will please to students, teachers and education staff.

Euro Systems® scope of works in this project consists of supply and installation of window blinds, walkway shades and fire curtains.
Kuwait
X-cite by Alghanim Electronics, Kuwait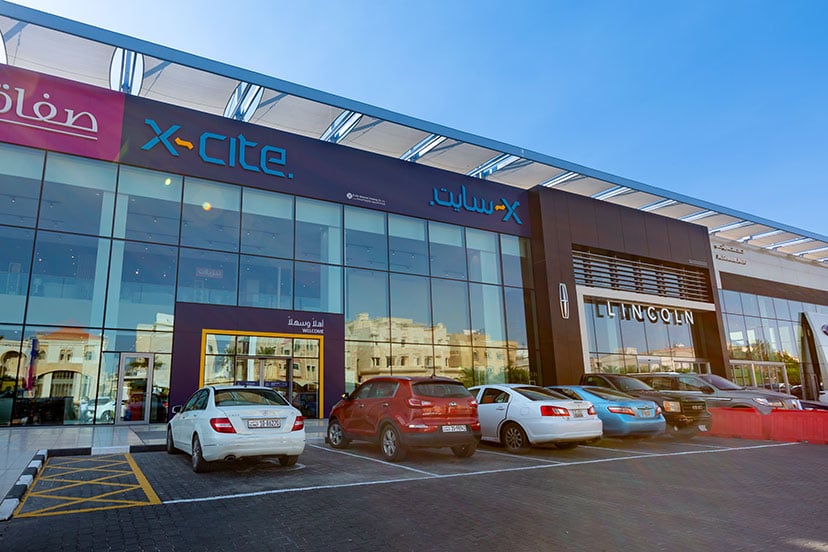 To cater to customers' needs in terms of technology and entertainment, the X-cite by Alghanim Electronics is the largest electronics retailer in Kuwait with a multitude of stores across the country. The brand's outlets provide customers with a comprehensive range of home entertainment, electronics, fitness equipment, gadgets, and home appliances.

Euro Systems® has gained demonstrable experience in furnishing retail stores with advanced solar shades. We design and install blinds that are tailor made to the size of the windows based on requirements.

For X-cite project, we were contracted to supply and install manual roller blinds from our Salire® range in X-Cite offices on the second floor. The goal was to achieve maximum protection from harmful UV rays and thus enhance the employees and visitors experience as the retail brand aims to incorporate a fresh corporate identity with optimal user experience.