Euro Systems® has recently completed several prestigious projects spanning high-end residential and commercial buildings across the Middle East by installing various interior, exterior and architectural glazing systems.
In 2020 and continuing into 2021, we have managed to maintain project performance in the market through completing various installations of interior shade systems, pergolas, architectural glazing systems and acoustic ceilings for our clients in UAE, Qatar and Kuwait.
UAE
Bee'ah Headquarters, Sharjah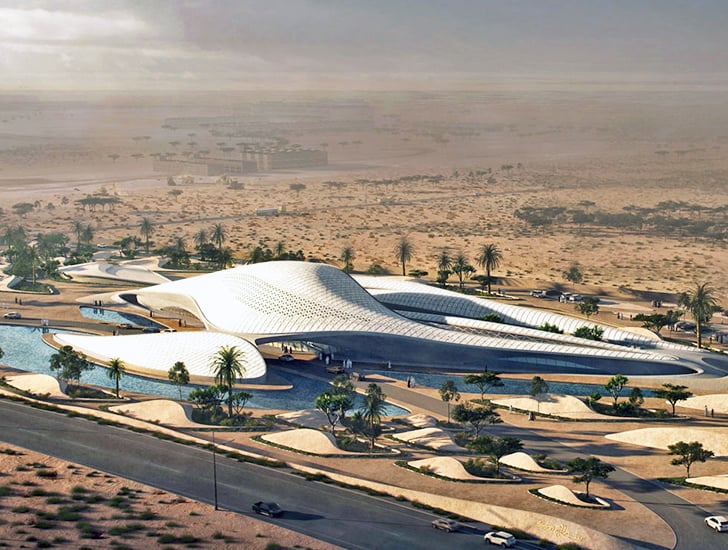 Bee'ah, the UAE-based award-winning environmental & waste management company, aims to achieve the highest standards of renewable energy and sustainability. In keeping with Bee'ah's holistic approach to sustainable future targets, the headquarters has followed a solid sustainability strategy from the designing phase.
Euro Systems® has recently initiated the installation of Baswa acoustic systems in the new Bee'ah Headquarters in Sharjah, UAE. The sand dunes-inspired building will use energy and water-saving systems, including passive solar and wind-powered heating and cooling. It will also use recycled materials and the best acoustical systems from BASWA acoustic. BASWA's mission is to increase wellbeing by combining effective sound absorption with complete architectural freedom.
QATAR
VIP Hotel, Doha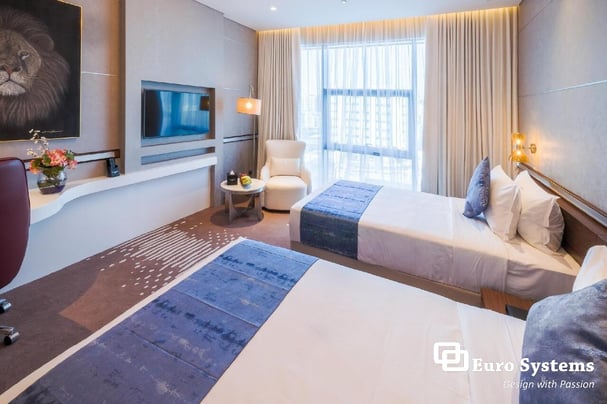 Located in Doha, 2.9 km from Qatar National Museum, the VIP Hotel features a typical contemporary styling with a vibrant colour scheme, including a rich palette of grey and blues in the hotel rooms, reflecting the refreshed colours of the sky, sea, and earth. All the guest rooms are furnished with discrete energy-efficient systems to improve the guest experience and bring a modern dimension to the hotel.
The hotel room's interiors use high-end furniture, modern sofas and armchairs, animal printed carpets, and contemporary draperies that give the interior design a unique character with the vanguard of contemporary design in mind. Euro Systems® was selected to assist with the design and installation of draperies, sheer curtains and roller blinds for the hotel facilities.
Click here to view more images from this project
Kuwait
Baba Kaldi at Murouj Entertainment Resort, Kuwait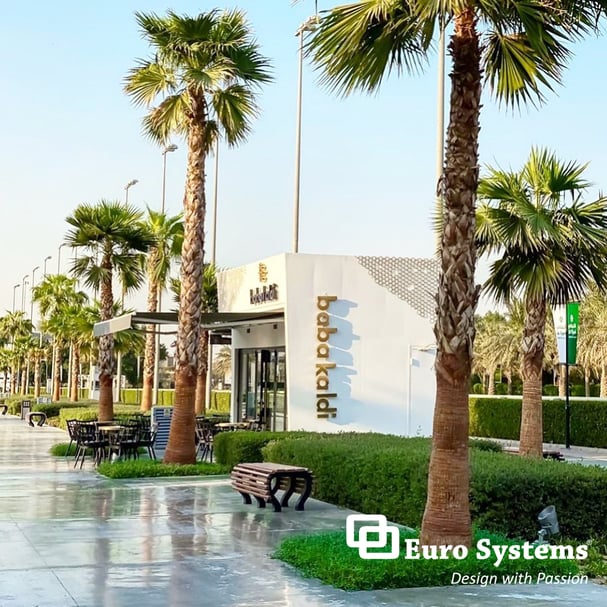 Located in a strategic area within 8 minutes of Kuwait International Airport, the Murouj resort features many residential and infrastructural developments. It presents promising growth potential for retail and entertainment buildings, including fitness clubs, retail shops, playgrounds for kids, coffee shops and restaurants.
The famous Baba Kaldi café has reserved a space in the Kuwaiti favourite dining and entertainment area. The cafe needed to cater to the style of Murouj. Designers have managed to retain the brand characteristics and personal touches, even in such a small-scale setting. In Baba Kaldi, our work scope consists of the supply and installation of retractable motorized awnings to provide the visitors with maximum solar protection while enhancing the coffee shop building's aesthetic appeal.
Click here to view more images from this project
Euro Systems® contributes to the development of impressive and comfortable interiors. Furnishing interiors with our solutions and systems includes also creating a detailed design concept that helps to upgrade any space within a building.