Multiple sustainable projects in line with the latest technologies are being completed by Euro Systems®️ in the UAE, and Qatar. We are the systems provider of choice for the major buildings across the Middle East region.
Explore below some of our latest projects.
UAE
Sharjah Digital Library, Dubai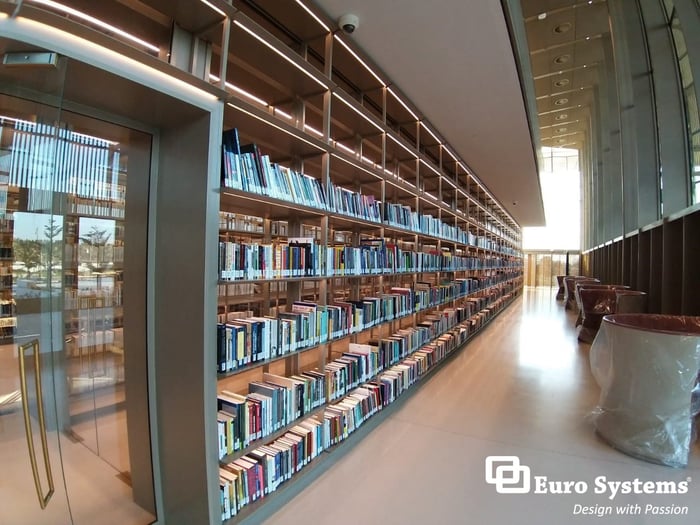 Our custom design bookshelf with integrated lighting installed at the wisdom vault of Sharjah Public Library is one of our prominent projects. The library's shelves store 105,000 books, providing a unique, designed knowledge hub for all book lovers and visitors.
This location is a center for education and knowledge, providing services and facilitating the endless flow of information within the community.
Solange®️ specialty shading from Euro Systems® shade the large windows of the library and block the direct sunlight to create a cooler indoor environment.
Click here to view more images from this project.
UAE
Bee'ah Headquarters, Dubai
One of our most leading projects making a mark in incorporating BASWA Acoustic ceilings and walls for healthy architecture at Bee'ah Headquarters, Sharjah, is now open. BASWA provides the most versatile acoustic solutions. A pioneering sustainable product well suited for this project.

This project is a source of pride as it levels among the world's most sustainable and intelligent structures. Setting a standard for future work environments. By combining expertise from a variety of future-critical industries with modern, scalable technologies and pushing sustainability agendas for businesses, cities, and governments.
Click here to view more images from this project.
Qatar
Qatar Olympic and Sports Museum, Doha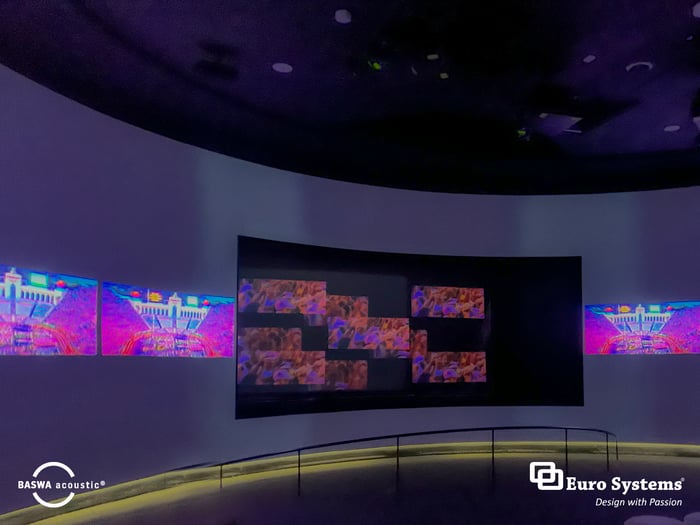 Qatar Olympic and Sports Museum is a hub for sports history, heritage, and knowledge. Sustainability is very important in the GCC region. Our BASWA Acoustic ceilings installed here help reduce noise levels and promote sustainability at a regional level.

Euro Systems®️ provides BASWA acoustic solutions to enhance the experience of visitors and promote health and wellbeing at public locations. Sound is made intelligible without amplifying ambient noise or affecting the design.
Click here to view more images from this project.