As peak summertime has now approached us with daily temperatures only rising day by day, we try to find various ways to keep out the sun most of the time and spend as much time indoors as possible. This means having our air conditioning units switched on most of the day. We spend a lot of our time indoors to stay away from the summer heat and sun.
Apart from staying indoors, another way of keeping your home ambience cooler is by continuing to keep your window shading closed during the day time. As homeowners now lean towards a modern contemporary design for their interiors, Roller Blinds have taken over from the traditional Curtains as the preferred choice when choosing the type of window shading to use. Roller Blinds are modern and blend well with any contemporary home design. They provide a solution to blocking sunlight and providing privacy as well.
Since many people are now upgrading their home decor, there are many factors to take into consideration such as the colour schemes, furniture, soft furnishings and various attractive home accessories that need to look good together; these Blinds are an ideal option to add in a modern home. Here are 3 essential tips you need to consider when selecting Roller Blinds.
1. Fabrics
There are various types of Roller Blind fabrics available in the market. Whether you are looking for a blackout or sunscreen
Blackout blinds are highly effective in blocking out the sun and keeping your interior cool. If you are looking for complete privacy options for your windows, our blackout roller blind can be your ultimate solution.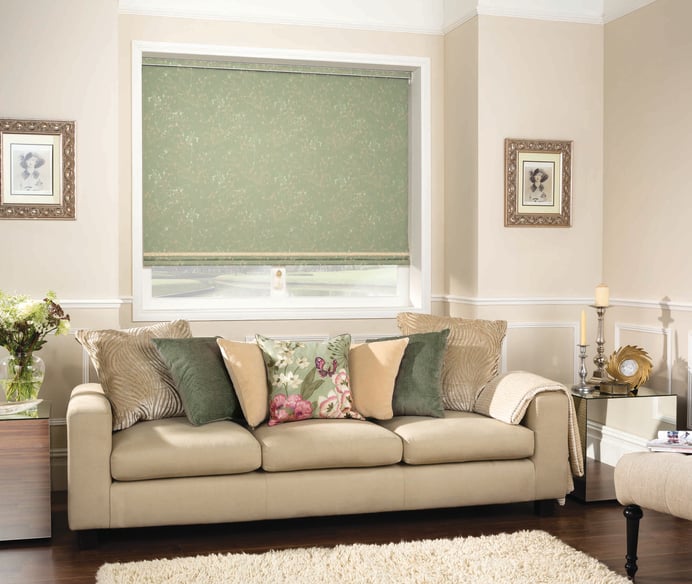 Blackout Fabrics offers 100% privacy and protection
Perhaps the most essential benefit of installing a blackout blind is that it brings a combination of privacy and protection from UV rays.
Sunscreen fabrics are translucent. They allow you to adjust the light transmission from the blind depending on the type of fabric you choose as per your preferences for openness factors, this range from 1-3%, 3-5% and 5-10%.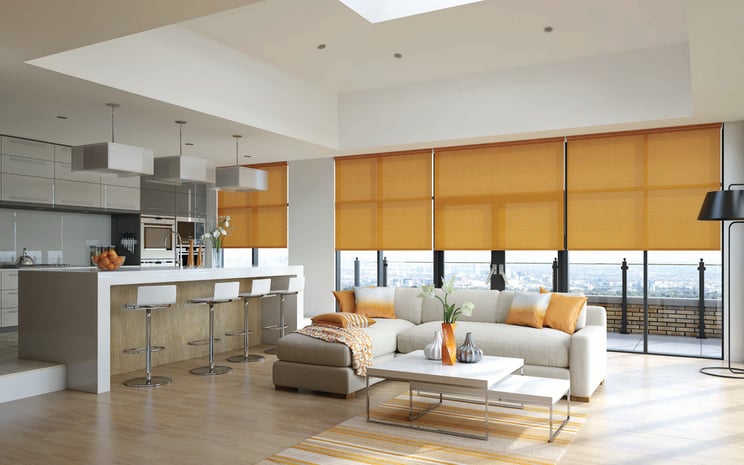 Sunscreen blinds are ideal for modern interior settings

2. Child Safety
A child's safety is always a priority for a parent, and you look for every possible way to child-proof your home for the protection of the young ones. However, often a parent might overlook of having safety precautions for their child while installing Roller blinds in their home.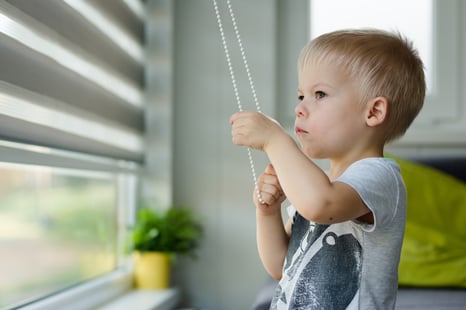 Manual free hanging chains are unsafe around children
Kids are usually curious in nature and can be prone to face risks while playing with materials around the house, this can also happen the looped control chains and cords of manually operated Roller Blinds. To have a child-safe environment, it is safer to install motorized roller blinds that are controlled through a remote or a smartphone by an adult. By upgrading your Roller blinds with motorization and automation systems, you can eliminate these types of risks.
3. Motorized Roller Blind System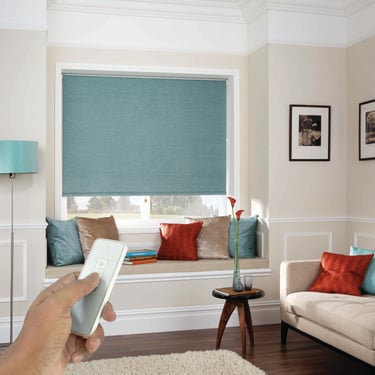 Wondering how advanced systems can help you upgrade your room's window privacy, luxury and security? With just at the touch of a button, you can take pleasure of the outdoors and add extreme convenience and comfort. These shading solutions gives you the liberty to control the sunlight entering your home, be it with your smartphone or with a touch of a button through a remote control or a wall switch. In addition to this, when you connect the roller blinds to your home automation systems, it gives you the flexibility to have a fully integrated home as you desire.
At Euro Systems®, we allow you to customize your blinds, tailored to your window and personal choice. Our versatile range of residential Roller Blinds collection will uniquely stand out and create an impressive makeover for your interiors.
To know more about Residential Roller Blinds, Click here